.... More than a classic incubation, a creative, entrepreneurial and participative residence!
The Challenge Lab is a support program, lasting approximately 60 hours, open to all project leaders wishing to be actors in the transition of our societies and to respond to local and global challenges, particularly in the areas of health, education or the development of sustainable cities.
So that tomorrow's schools, universities, hospitals and cities become creative, innovative, sustainable and learning environments.
General description of the program
A true catalyst for innovative practices, this program aims to be transformative "inside-out" to help you develop your positive impact project through a learning experience designed as an exploration of self, others and the planet.
This exploratory residency is broken down into 3 phases with the final objective of presenting your societal transition project with co-constructed impact criterias to a jury composed of the educational team and external speakers chosen with you.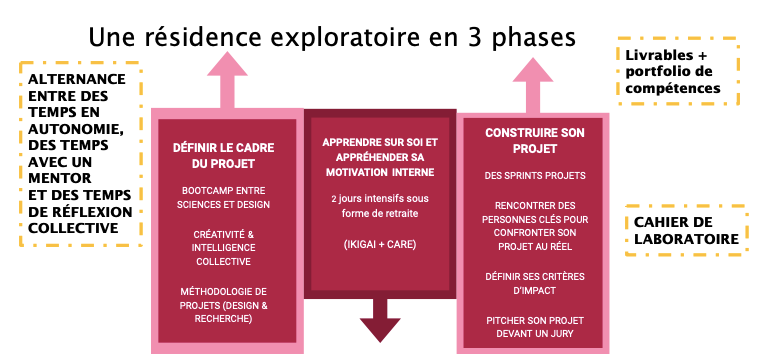 To help you adopt the posture of a creator/researcher/entrepreneur, you will have a laboratory notebook that will allow you to write down your discoveries, your questions, and your path from the definition of the problem to the solution that you wish to develop (your project).
To guide you throughout this exploration, you will alternate between times of individual reflection, times of reflection with your mentor, and times of collective reflection to encourage exchanges, feedback, and increase the collective intelligence.
Come and join a creative, enterprising and participative community!
Submit your application
To apply, click here and if you have any questions, click here!
Schedule, Course and Certification
Application deadline: January 20 to February 10, 2022
Candidate interviews and feedback: February 10 to February 20, 2022
Start of the program: first week of March
End of program: June 2022
This program offers hybrid modalities: distance and face-to-face depending on the workshops.
This is a non-degree program. You will receive a certificate of participation from Learning Planet Institute at the end of the program if you have participated in more than 80% of the workshops.
The Challenge Lab is a program of the Challenge Institute, co-founded by the Learning Planet Institute and the University of Paris.
To apply, click here and if you have any questions, click here!
The entire educational team is looking forward to meeting you!
Creativity
to deploy new resources and take a fresh look at one's project thanks to the power of creativity The Institute of Challenges relies on LPI's expertise in pedagogical and social innovation to design a lifelong training programme that supports entrepreneurs of an inclusive, learning and sustainable society.
Ikigaï
to question oneself, one's project and one's reasons for acting thanks to the tools and methods of personal development
Design tools
design thinking, experience design, transition design... And discover all the "resources" at our disposal
Community of Practice
Putting collective intelligence at the service of projects by using the tools of the researcher: peer review, participatory science, research methodology by challenge...